Article Link: https://architizer.com/blog/inspiration/collections/tiny-apartments/
By: Eric Baldwin
Architects: Find the perfect materials for your next project through Architizer. Manufacturers: To connect with the world's largest architecture firms, sign up now.
Living tiny has become the new living large. With the rise of the tiny house movement and expanding urbanization, designers and developers alike have turned their attention to tiny living. Balancing the bottom line with creative solutions for storage and versatility, these tiny spaces are made to utilize every inch of space. Depending on the city, tiny apartments are generally considered to be less than 550 square feet, with micro apartments classified between 200–400 square feet. These tiny spaces are formed for efficiency, coupling programs and functions together.
Unlike a traditional studio flat, tiny apartment residents can benefit from the use of communal kitchens, bathrooms and roof gardens. While micro living has faced criticism for packing residents into tight spaces, the following apartments utilize clever solutions to maximize space while preserving comfortable living conditions for inhabitants. Combining durable materials, kinetic elements and precise detailing, these tiny apartments reveal how to live large in small spaces and create room for everyday life.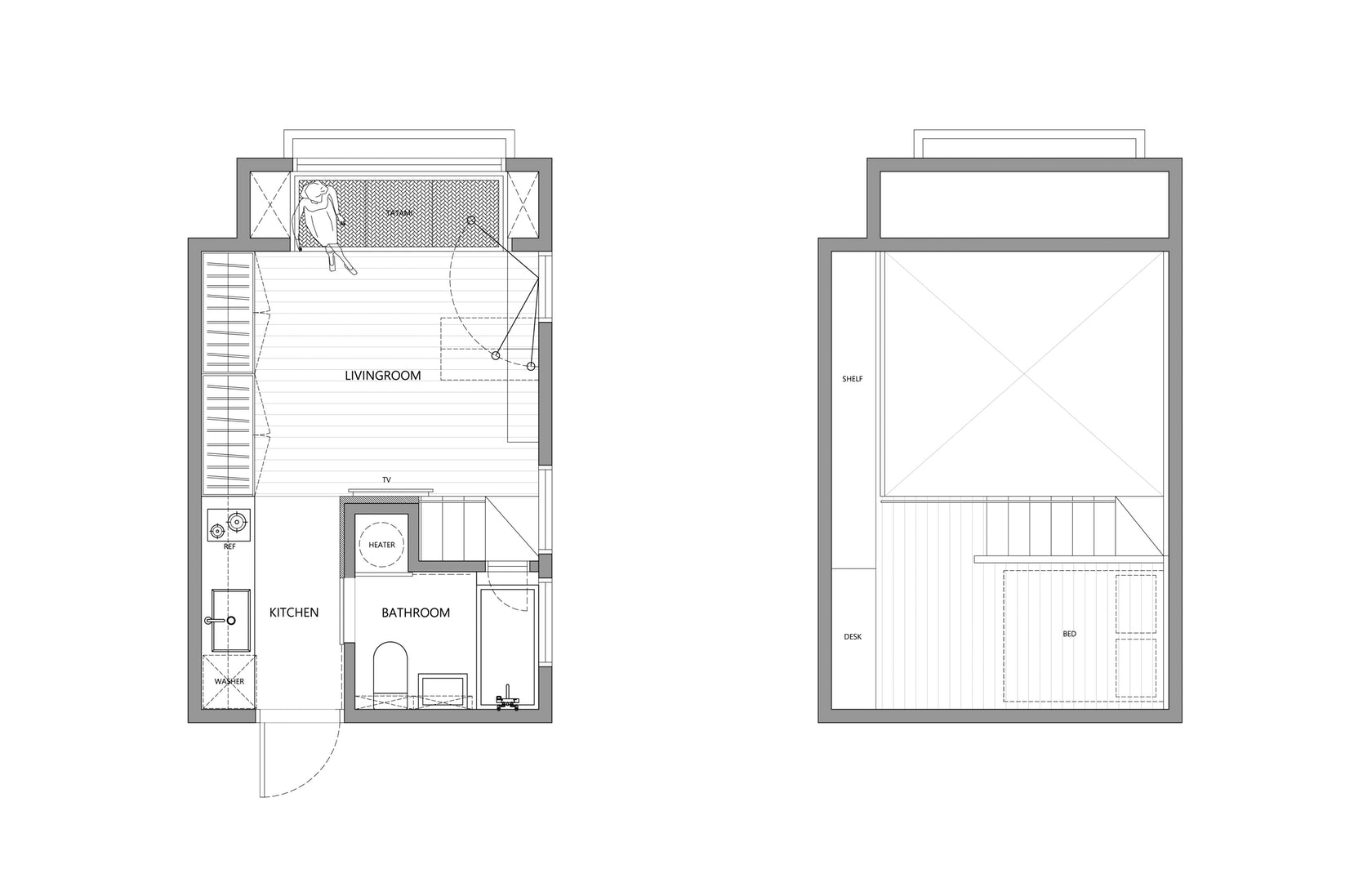 Tiny apartment in Taipei by A Little Design, Taipei, Taiwan
This is a renovation project of an old flat which measures 22 sqm and 3.3m in height. Due to the high housing prices in Taipei City, the living space that young people can afford has become smaller and smaller in the last decade. The living unit may not be spacious, but still has a chance to fulfill all basic living functions. The client agreed with the idea that space is as important as function when it comes to a place where people will live for a long time rather than a room for a short-term stay. This tiny apartment centers on long term living around clever storage solutions.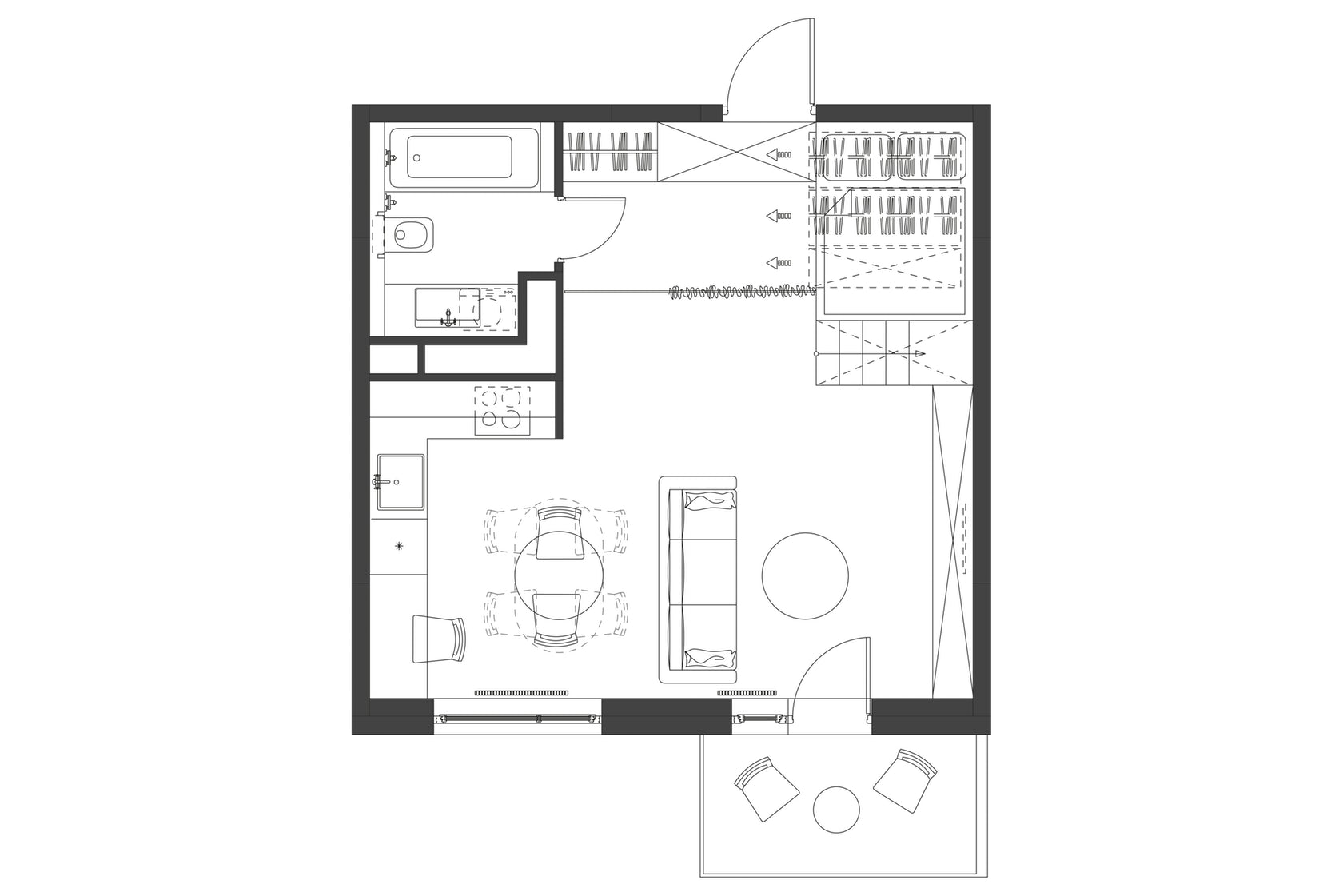 35m2 Flat by Studio bazi, Russia
This small 35 square meter flat was designed for a young couple. The main task was to create a comfortable open space plan with enough area for storage with access to natural light. The apartment was designed with a furniture system that would make the most of the existing space. A range of appliances were provided by Electrolux, while many furniture elements were provided by IKEA. A curtain separates the sleeping unit , kitchen and living zone from entrance, which can be pushed back when it's needed. Living and dining zones are quite flexible, by moving sofa and extending dining table, it easily become a comfortable space for 10 guests.
Urban loft Amsterdam by Bureau Fraai, Amsterdam, Netherlands
This tiny loft design aimed to convert a small former social housing apartment in the city center of Amsterdam into a modern urban loft. Bureau Fraai, a design firm from Amsterdam, got rid of all doors, walls and tiny rooms around the core of this small apartment. Their design focused on creating one solid wooden volume of birch plywood with extended wall cabinets alongside the whole length of the apartment. By incorporating program like bathroom, toilet, storage and a box-bed all inside the wooden volume, the surrounding space can be freely used for other program like living, dining and cooking.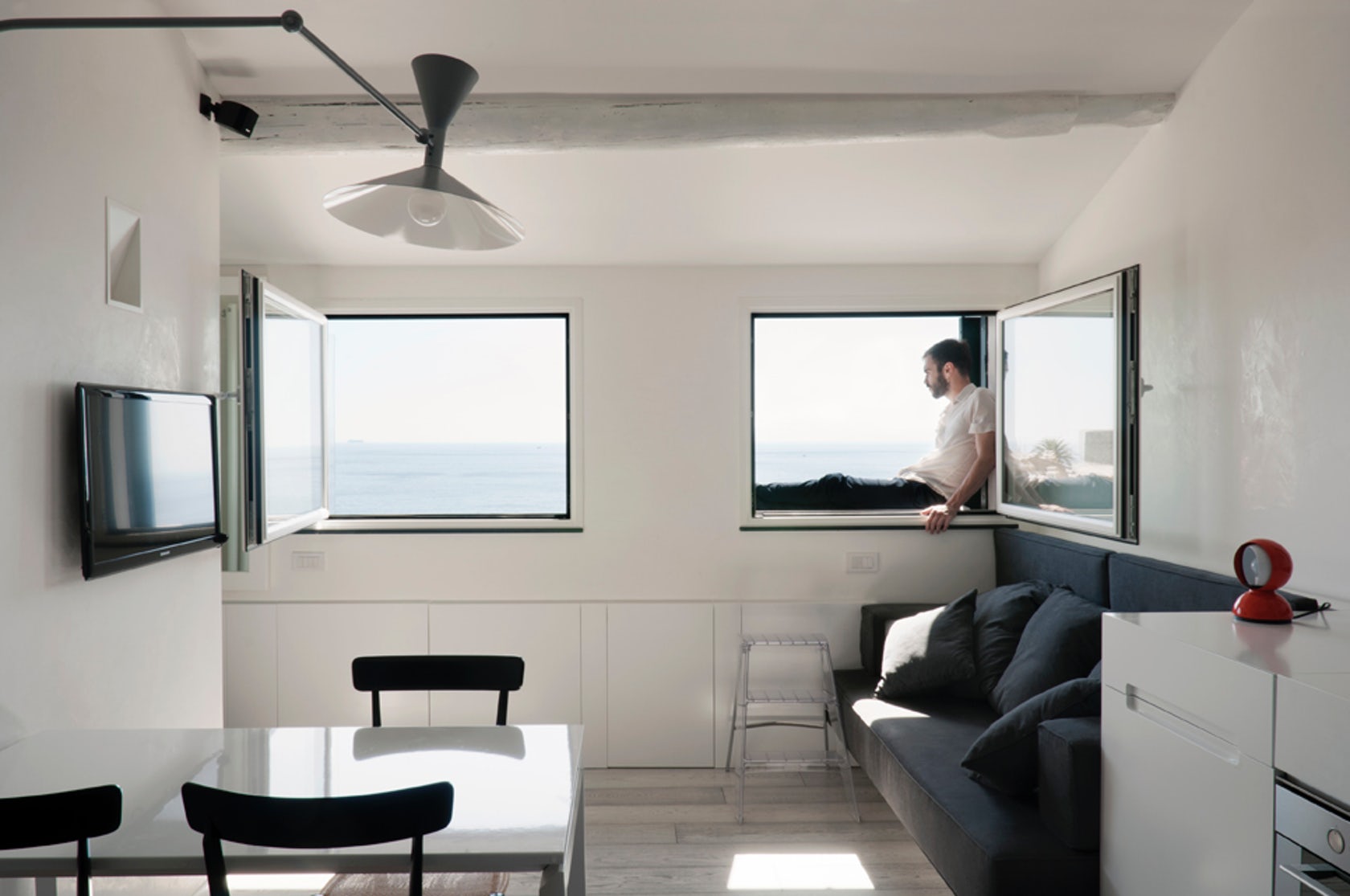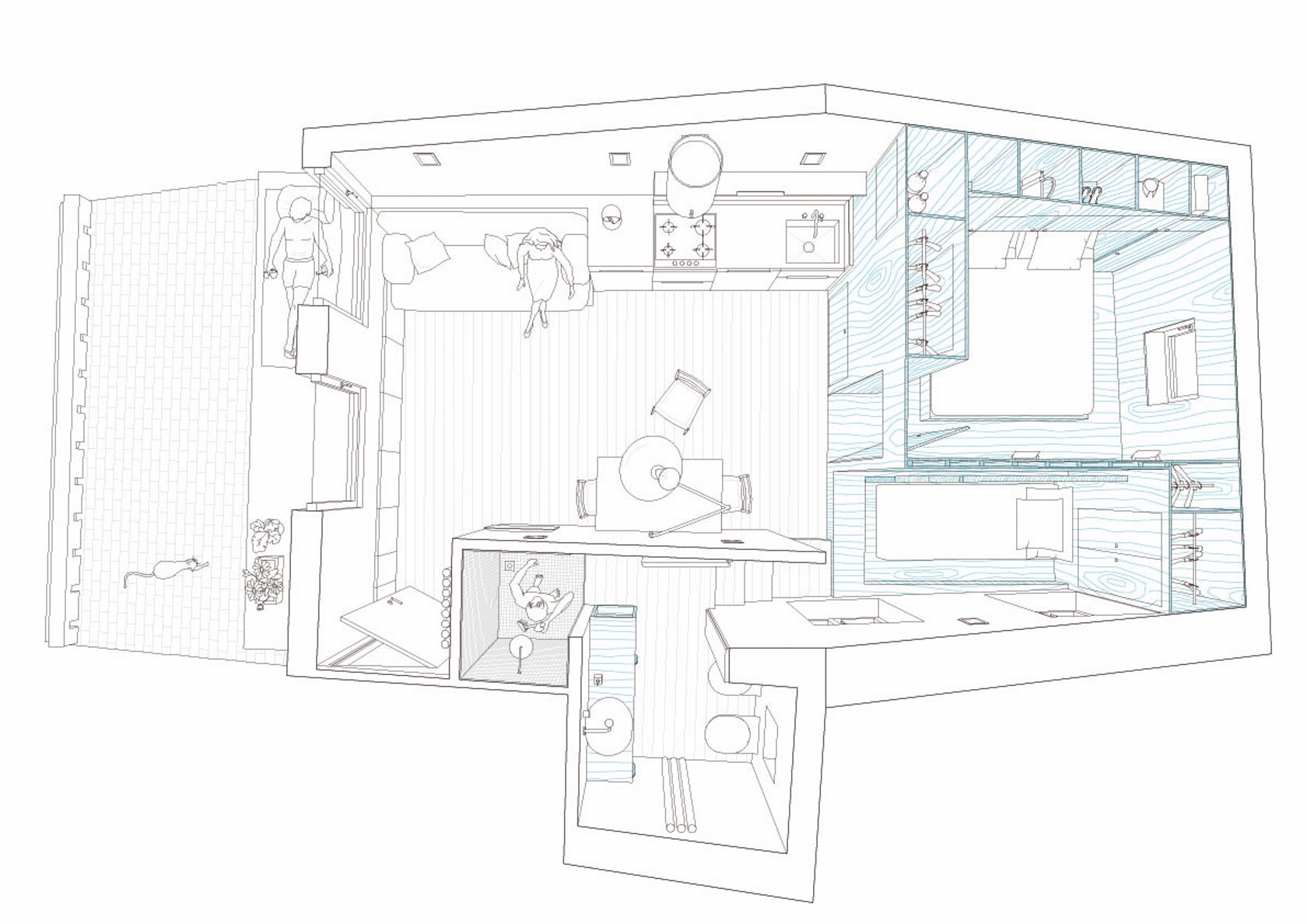 Attic on the Harbor by gosplan, Camogli, Italy
The project is a flat refurbishment in Camogli, a charming village near Genova. This is a small holiday flat, an attic above the old fishermen's harbor. The project was made to be two bedrooms, a studio, a living room, a kitchen and a bathroom, despite the roof form and the very small floor surface. That led to a tailored apartment, where each room is a piece of furniture: after you have used it, you can close it. The simple design features elegant details and a range of solutions for storage.
Carmel Place by nARCHITECTS, New York City
Carmel Place is the winning proposal in the adAPT NYC an initiative launched as part of former Mayor Bloomberg's administration's New Housing Marketplace Plan to accommodate the city's growing small household population. The building was granted several mayoral overrides to allow this prototype to be built, including a relaxation of the minimum unit size, and the maximum density, or number of units permitted in a building. The now completed Carmel Place provides 55 loft-like rental apartments, ranging in area from 260-360sf net, and complemented by generous shared amenities, setting a new standard for micro-living. The project has been watched closely as a new housing prototype in NYC, and for its groundbreaking use of modular construction.
Designed as a tiny apartment in a historical building in Wroclaw, Poland, 29sqm was  made to maximize space and create an independent bedroom. The ceiling height didn't allow the designer to create two equivalent levels, but it was possible to build a semi-mezzanine. Above the bathroom and the hallway there is a large bed area and wardrobe space. Moreover, to increase space, the living room, kitchen and dining area are combined into one room. In turn, 3XA designed the space to deceive the senses with a blind door within the apartment walls.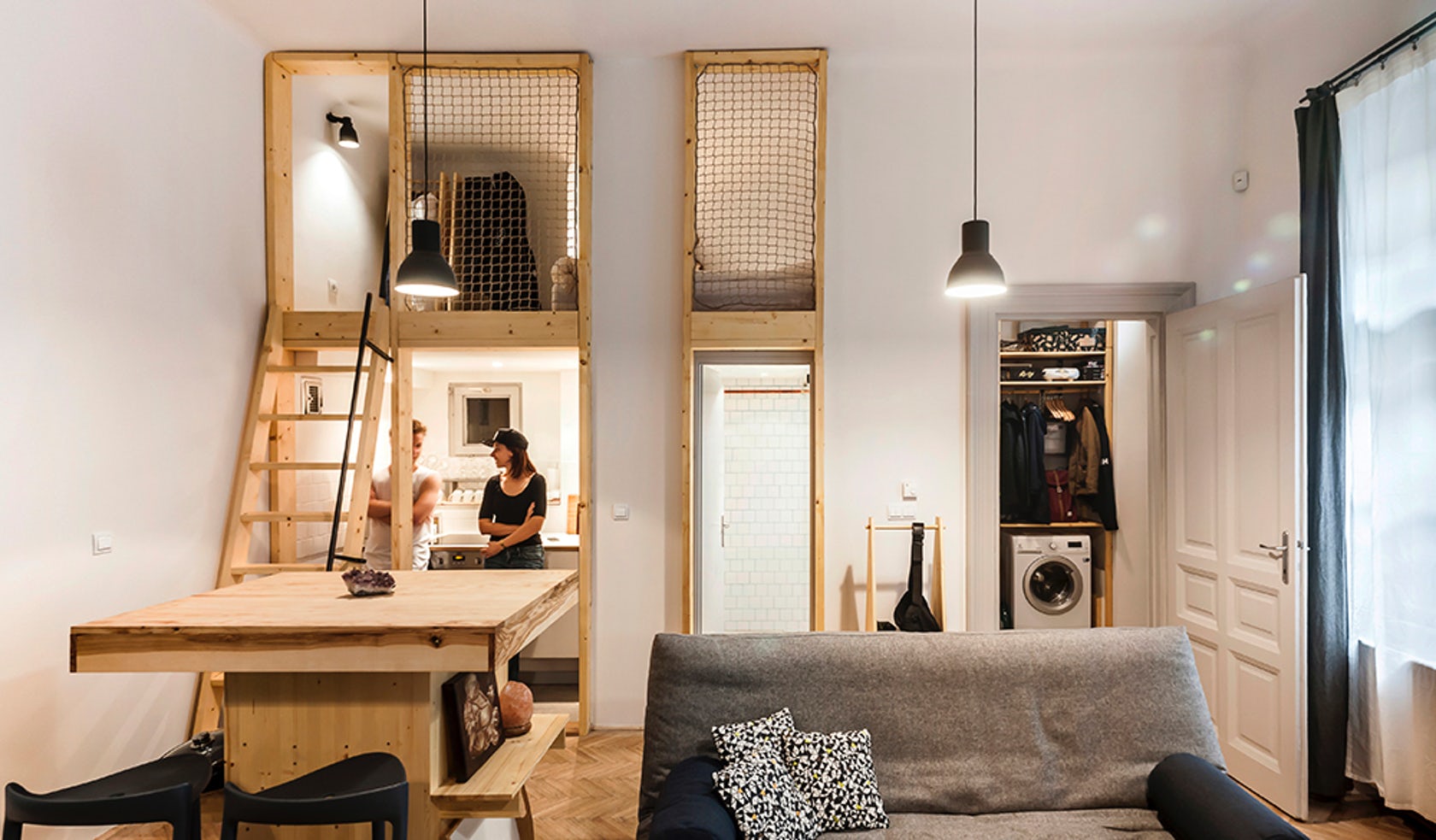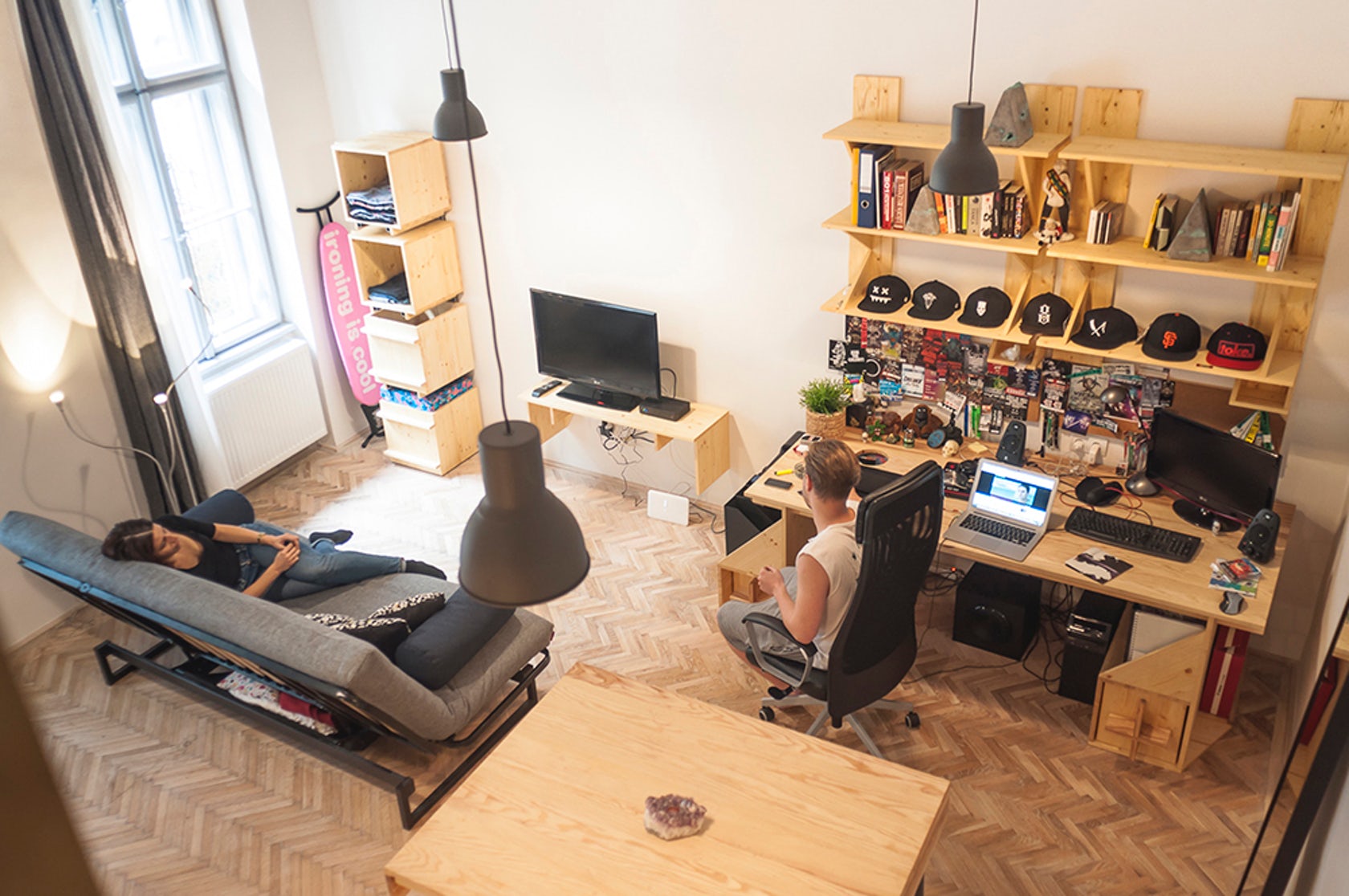 Micro Live:Work Studio by Studio Bunyik, Budapest, Hungary
This micro live work studio is located in Budapest's ninth district. The neat studio was reinvented as a micro live + work space featuring a set of pine and ash wood bespoke furniture elements that frame and anchor the main functionalities of the apartment. Built with an open floor plan, high ceilings and custom furniture, the plan allows the compact space to house a fully-functional kitchen, lofted bedroom, event promotion headquarters, and ample space for after parties. The apartment includes furniture from Innovation Living and Pedrali, with porcelain by Mirage.
The Studio by Nicholas Gurney, Sydney, Australia
This 27sqm studio apartment is located in Sydney. The project was an exercise in modest, low cost, good quality design that's affordable. The micro apartment offers a proposal for future high-density urban living for one person families, the fastest growing demographic. With a budget of less than $40k and a four week window for construction, the client requested a flexible canvas for daily living. To conserve space, light and the city skyline outlook, a joinery pod was inserted to address issues of privacy, storage and a lack of living space inherent in apartments this size. The pod utilizes full height, wall-to-wall sliding doors and accommodates an entry foyer, storage, equipment, washing and sleeping zones.
Urban Shelter by MYCC Oficina de Arquitectura, Madrid, Spain
At twenty square meters, this singular urban shelter is an enclosed space where a single person can live and work. The apartment, even with its small size, offer generous spatial arrangements and different functional uses. The pieces that make it up do not have a fixed or clearly defined use: the kitchen is a walk-through room to get to the living space, and there are stands rather than stairs to go down to the living area, which in turn is over a cellar-storage room. At the same time, you can take the ladder to the indoor terrace, a place to be used as a study or room to relax. The focus is on an unadorned way of life that's both simple and bright.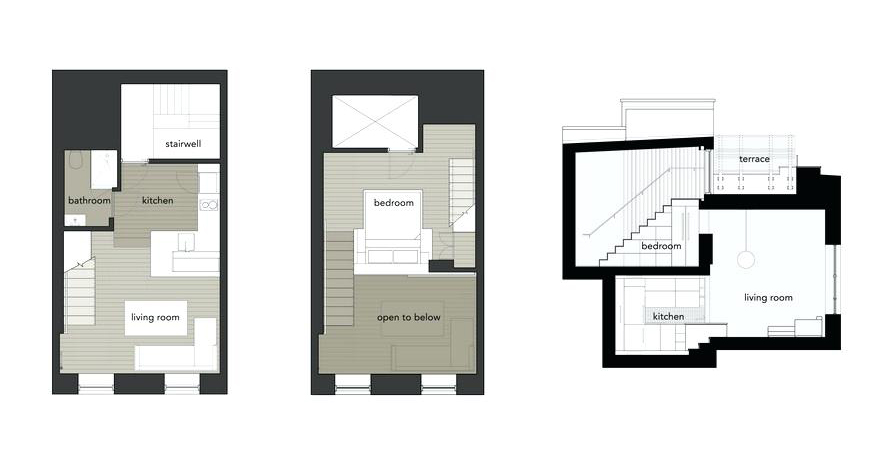 Manhattan Micro Loft by Specht Architects, New York, NY
This tiny penthouse duplex apartment renovation in a brownstone building on the Upper West Side held a number of challenges to make it a liveable space. The client wished to use it as a pied-a-terre in the city for himself and his family. With only 425 square feet divided among 3 levels, it was important to open up the space as much as possible to make it livable. Inside, the bathtub and shower were provided by Gaggenau, while cooktops were provided by Caesarstone and kitchen furniture by Vola. The upper level was extended via a built-in bed cantilevered over the floor edge, providing for the necessary head-room at the level transition below. Storage was built entirely into the spaces below the stairs with built-in drawers.